Dive Courses in the Seychelles
Africa » Seychelles » Mont Fleuri » Victoria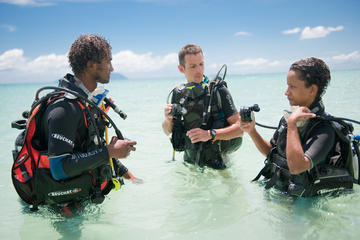 Duration: Flexible
Departs: Victoria, Seychelles
Price from USD 105.99
Book Now
Whether you are seeking to experience your first breath underwater in the Open Water Diver course or the next speciality course to earn your Master Scuba Diver rating, you will find the perfect course right here.
Learn to dive or expand your diving knowledge with Blue Sea Divers. Chose from a range of certification courses from Open Water diving through becoming a Professional Diver. For absolute beginners, do not worry if you have no experience of diving, these courses will help you enjoy this new experience. Book an Intro Dive and discover the magnificent underwater world for the first time!

If you are not able to stop diving after the first experience then you can become certified in the Seychelles.

If you have little time? No problem! Choose the PADI "Scuba Diver". In two days you will have completed half of the course "Open Water" and you will receive a certification that will allow you to dive with a PADI instructor all over the world. You can complete the other half of the PADI "Open Water Diver" at any PADI dive school in the world, at any time.

Want go of the Full Diving Course ? Choose PADI OPEN WATER DIVER COURSE ; Once trained and certified, you will be able to plan and conduct dives on your own.

Are you already a Diver but you wish to build confidence and expand your scuba skills through different Adventure Dives, book the Advanced Open Water Course and try out different specialities while gaining experience under the supervision of your PADI Instructor.

Diving in Seychelles with Blue Sea Divers, we are here for your unforgettable experience.
« All Activities